I listen to podcasts, a lot of podcasts. Over the last few years I've subscribed to a number of them that I listen to in the hours I'm travelling (after school dropoff, or commuting to/from London).
Although I only listen for around 8-10 hours a week, I manage to listen to around 15 hours a week of podcasts thanks to Overcast's Smart Speed, which skips silent parts of episodes, and listening to most podcasts at either 1.25x or 1.5x speed.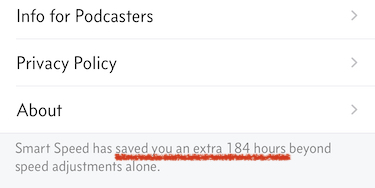 I've tried various ways of organising them and have settled in to this relatively simple method. I have two playlists, one named Tech and one named Non-Tech. Generally during my morning commutes I listen to the Tech playlist and during my evening commutes I listen to the Non-Tech.
Here's a selection of my favourites, in alphabetical order:
16 Minutes (tech)
a16z partners, guests, and industry experts disect the week's tech news in about 16 minutes.
Find out more at a16z.com.
99% Invisible (Non Tech)
Roman Mars talks about the hidden and unnoticed design and architecture in the world around us.
Find all episodes at 99percentinvisible.org, and while you're there you should totally sign up for their fascinating newsletter 👍.
Accidental Tech Podcast (Tech)
Weekly, Apple-heavy, tech (and often car!) news & commentary from Marco Arment, Casey Liss & John Siracusa. Typically clocking in at around two hours per episode, this is definitely one that benefits from those speedups.
All episodes and notes at atp.fm.
Freakonomics Radio (Non Tech)
Freakonomics looks at the hidden economics behind everyday things.
Read more about freakonomics and listen at freakonomics.com.
Hackable (Tech)
Everything around us is becoming more and more connected. And with more connectivity comes more chances of vulnerability, exploit and malware. Geoff Siskind talks to cybersecurity expert Bruce Snell about the vulnerabilities we can face in this super-connected world, and what we can do to avoid or mitigate them.
Listen at hackablepodcast.com.
Masters of Scale (Tech)
Reid Hoffman, co-founder of LinkedIn, talks to founders and leaders of companies who have experienced rapid growth to uncover the secrets and stories behind that growth.
Read more and listen at mastersofscale.com.
The Pitch (Tech)
This is a Dragon's Den (Shark Tank for my friends on the otherside of the pond) for tech startups where you get to hear a lot more candid talk from both the pitcher and the investors.
From gimletmedia.com.
Planet Money (non Tech)
Planet Money take complex economic stories and breaks them down in to short, fun and easy to understand episodes. See also their even more regular/shorter spin-off, The Indicator.
Listen to their substantial (almost 1,000 episode) catalog at npr.org.
Reply All (Tech)
Describing itself as "A podcast about the internet" is really underselling! Alex and PJ scourer the internet and report on interesting, funny and/or inspiring stories. One fun repeating segment is their "Yes/Yes/No" where they try to explain weird tweets/memes to their boss.
Another one from gimletmedia.com.
Revisionist History (Non Tech)
Malcolm Gladwell looks at events or people, in great detail, that have been overlooked or misunderstood in the past. In his own words "Because sometimes the past deserves a second chance."
Listen at revisionisthistory.com.
Science Vs (Non Tech)
Each episode digs deep (with full citations in the show notes) in to trends or recent opinions and distills them down to just the facts.
Yet another one from gimletmedia.com.
Twenty Thousand Hz (Non Tech)
From ring tones to film scores and everything in between, sound designer Dallas Taylor details the stories behind the sounds we hear everday.
Listen at 20k.org
Other honorable mentions
Every Little Thing, The Good Place, The Indicator, The Infinite Monkey Cage, Radiolab, Serial
What do you listen to? What else should I listen to?